Reviews, Foreign Covers, and Book Tours
Okay, so I was planning to lost 10 lbs and get 5 years younger before this book tour/BEA week of excitement. But I forgot to put the frownies on my forehead (also I can't sleep with things stuck to my forehead--have you seen these things? They are stickers you use to smooth our wrinkles) and I have recently moved, gaining a larger kitchen, which requires lots cooking and baking and...eating in general. Going shopping last week was an exercise in humility.
I'm very excited for BEA and the following Dark Days events, but when I got the schedule and the badge and everything, I felt a bit like an imposter. I certainly couldn't be an author going on book tour, could I? Flying to BEA and speaking on panels about the Evolution of YA? What? Me?
Sometimes it doesn't even seem real that Masque is out! Though I've seen it in multiple bookstores.
To make myself feel a little more legitimate, I thought I'd share some of my professional reviews and my first two foreign covers.
First is a starred review from Shelf Awareness, I love this one because it "got" everything that I was trying to do in Masque.
A plague known as the Weeping Sickness has devastated society, killing an untold number of victims. Survivors face a life in which corpse collectors make daily visits. The few wealthy citizens purchase porcelain masks that filter the diseased air and make it safer to breathe. As the daughter of a renowned scientist, Araby Worth lives a life of privilege and luxury. She and her friend April spend their nights at the famed Debauchery Club, where their brief escapes offer Araby respite from the guilt she feels over her twin brother's death. When Araby becomes entangled with two young men, her life becomes complicated by far more than romance. Her love triangle is surprisingly fresh: the rivals know of one another and both prove themselves alternately trustworthy and dangerous. Two revolutions loom, and everyone has an agenda. Trust is a luxury no one can afford.

Griffin's novel pays homage to Poe's story with Gothic overtones, and updates it with well-placed touches of steampunk. She specifies neither time nor place, so readers may experience the novel as a turn-of-the-century tale or a futuristic dystopia. To Griffin's credit, this makes her story more accessible, bridging across time. Thanks to Griffin's strong character development, none of the characters' motives are clear, and no one is predictable. In this world, someone who proclaims love is just as likely to murder as the one who seems aloof. --Kyla Paterno, retail coordinator and blogger, Garfield Book Company.
And now for the UK cover! My favorite part is the heart shaped blood splatter right below the eye.
From Horn Book
High School Greenwillow 324 pp.
5/12 978-0-06-210779-4 $16.99

g
The influence of Edgar Allan Poe's short story of the same title is clear throughout this disturbing novel about a crumbling world that is mostly centered on surviving a horrific plague—technology, equality, and social mores be damned. Seventeen-year-old Araby has been floating through life for years, constantly blocking out the world with her protective, lifesaving mask, even as she longs to feel and do something different. She allows herself to be dragged to decadent parties where all can ignore living in a world that is falling apart from neglect, where the population continues to drop precipitously and new sicknesses threaten. Araby, through her first experience with love, becomes involved in a plot that may finally get the evil leader overthrown, a change that would mean even more social chaos but would ultimately yield good. Permanently damaged by loss, tragic Araby is an ideal protagonist through which to view this grim setting. Her sarcasm and dim opinion of humanity are warranted, and her aching vulnerability as she begins to break through the grief of losing her twin brother years before is compelling. The complex layers of who is using whom, and to what ends, adds a mystery element to the novel. While the reader may not easily discern why this is a world worth saving, they will certainly understand why its inhabitants, including Araby, are clinging so tightly to survival.
And here's the Review from VOYA
Griffin, Bethany. Masque of the Red Death. Greenwillow/HarperCollins, 2012. 336p. $17.99. 978-062107794.
On the surface, Araby Worth's life resembles that of a typical wealthy teen: in her penthouse suite atop Akkadian Towers, she shares glittery makeup and trendy clothes with her best friend, April, as the two primp and preen before a night of partying at a hot downtown club. Between drinks and drugs, Araby escapes the helplessness she has felt since the death of her twin brother, Finn, and hopes to glimpse her crush, mysterious Will with his silver tattoos. But this is not the Upper East Side, and the gossip in the Debauchery District is about who has contracted the contagion rather than who is hooking up with whom. Araby's father is the brilliant scientist who invented the porcelain masks that protect those who can afford them, but no citizen is spared from the sight of corpse collectors making their daily rounds. As whispers of rebellion against the city's ruler, Prince Prospero, grow apace with death and disease, Araby is drawn into a complicated relationship with Elliott, Prospero's nephew and the leader of a rebel group. Together Araby and Elliott uncover shocking revelations about how their families are intertwined, all the while putting their health at risk. And if they die, all hope for the city may die with them.
In this incredible reimagining, Griffin captures the eerie atmosphere of Edgar Allan Poe's original short story while transporting the reader to a swampy, humid new world that is at once gothic and modern. Fans of Beth Revis's Across the Universe (Penguin, 2011/VOYA February 2011)and Veronica Roth's Divergent (HarperCollins, 2011/VOYAAugust 2011) will enjoy this first novel, which promises a gripping sequel.—Joanna Lima.
And now for the stunning German Cover. I'm told the title translation is...In the City of the Red Death, the Girl with the Mask. Not sure about that, but this is beautiful (see the tattoo on her shoulder? wow!)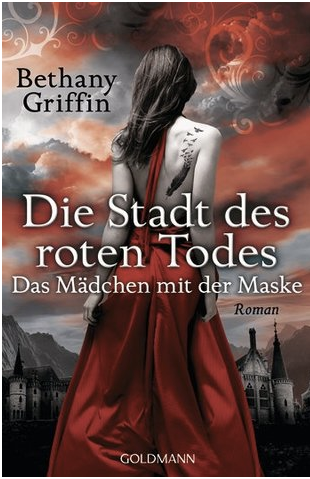 Next review is from Booklist...
Griffin, Bethany (Author)
May 2012. 336 p. Greenwillow, hardcover, $16.99. (9780062107794).
With more than a nod to Edgar Allan Poe, Griffin has created a 1840s world in which the plague is killing everyone but the rich. Since the rich can afford the masques that protect them from fetid air, they are free to come and go as they please, partying at private clubs like the Debauchery Club that Araby and April frequent. It's a decadent, isolated existence, one that Araby's father has bought with his scientific expertise (he invented the masque). A bored Araby becomes involved with two young men, both of whom are determined to save the decaying city, and they are dangerous to her and her family. This novel is not for the squeamish or faint of heart. The plague devolves into the Red Death, and romance into torment and violence. It's difficult to ferret out good from evil, or love from manipulation. The book's characters are not the only ones manipulated here. Readers will twist and turn, puzzling out hero from villain, only to be left dangling and anticipating the sequel.
Advanced Review – Uncorrected Proof
MASQUE OF THE RED DEATH
Author: Griffin, Bethany
And finally the Kirkus Review...

Review Issue Date: March 15, 2012
Online Publish Date: February 29, 2012
Publisher:Greenwillow/HarperCollins
Pages: 336
Price ( Hardcover ): $17.99
Publication Date: May 1, 2012
ISBN ( Hardcover ): 978-0-06-210779-4
Category: Fiction
Griffin (Handcuffs, 2008) forsakes realism for sultry dystopia.
Araby Worth lives in a tower soaring above a swampy, disease-ridden city. While her scientist father searches for a cure, Araby loses herself in a drugged haze and then finds purpose again joining a rebellion. But nothing is as Araby believes. Multiple factions work at cross-purposes, everyone has a secret agenda and the complex plot only thickens in this riff on Poe's short story. Griffin has taken several hot tropes—planned trilogy, dystopic setting, pretty dresses, steampunk, love triangle—and created something that, if not new, at least feels different. The underlying questions about science and religion, which may save or destroy, and Araby's strangely dispassionate understanding of her own depression (despite a remarkable blindness to anything else) give the tale an unexpected psychological tension. Araby's precise, self-absorbed narration overwhelms some details of setting and nuances of character but elicits sympathy nonetheless. The complicated plotting fails to resolve in this volume, but the inexorable movement towards the party in the prince's palace, where the wealthiest will dance to his sadistic whims while the world crumbles (per the source tale), makes for satisfying reading despite the lack of answers.
Formulaic but fantastic, from the eye-catching cover to the growth of a heroine who might save the world. Tailor-made for popular consumption. (Dystopic steampunk. 14 & up)
— Frances Bradburn